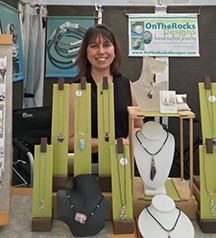 Founded in January 2007, "On The Rocks Designs" focuses on creating one-of-a-kind, artisan jewelry.  The name was inspired by me lamenting changing my name when I got married. And when I heard the commercial for the liqueur "Disaronno" on the rocks, it sounded so similar to my maiden name Lisa Wrona, I was inspired.   I decided at that point that my name was "On The Rocks".  My business name pays tribute to the artistic heritage of my family's talents and namesake. Each unique handmade jewelry item is named after a drink or a cocktail related theme.  Please drink responsibly!
I create genuinely unique sculptural jewelry and miniature organic sculptures through the use of sterling silver, anodized titanium, niobium, recycled materials, and hand-selected one-of-a-kind stones. Because each design is individual, I can be creative each and every time I go to work. Re-purposing scraps and recycled materials presents a creative challenge that allows freedom of exploration with every piece I make.
My work is inspired by nature and the different stones I select for each piece, which are each, themselves, products of our natural world. I also take inspiration from Art Nouveau and my background in graphic design. While I create collections that may be similar, it is a central principle of my work that each piece of jewelry or sculpture is genuinely one-of-a-kind. This commitment lets me explore and bounce back and forth between different styles, techniques, and elements, never allowing me to fall into a creative rut. Processes I regularly use throughout my work include lost wax casting, anodizing, metal embossing, and hammering. Still, I am never afraid to experiment with something new. Lost wax casting is a favorite process because of the unique fluidity it brings to metal jewelry, which is not typical of the traditionally hard and rigid material. My cast pieces also contain approximately 40-50% recycled sterling, which allows me to continue my pursuit of making my business as sustainable as possible.
My goal in creating original pieces of wearable art is that you feel confident in knowing that you have something no one else has. Combined with this sense of confidence, the inherent power of the stones should elevate any outfit and make the individual feel exceptional and energetic as they head out into the world.
Interested in how it is all made?  Click here for my YouTube channel and watch me demonstrate various stages of the different processes!
If you are interested in a custom designed piece, here is a link to my Design Services.
Best,
Lisa Parker