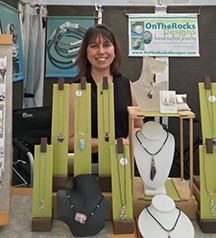 Founded in January 2007, "On The Rocks Designs" focuses on creating one-of-a-kind, artisan jewelry.  The name was inspired by me lamenting changing my name when I got married. And when I heard the commercial for the liqueur "Disaronno" on the rocks, it sounded so similar to my maiden name Lisa Wrona, I was inspired.   I decided at that point that my name was "On The Rocks".  My business name pays tribute to the artistic heritage of my family's talents and namesake. Each unique handmade jewelry item is named after a drink or a cocktail related theme.  Please drink responsibly!
"As an artist, it was difficult to choose just one medium and stick with it, but I seem to have an addiction to silver, shiny & unique items!  Fortunately, making jewelry allows me to do at least three of my favorite mediums:  Lost Wax Casting, photography, graphic design & displays.  I love designing new displays as much as I love making jewelry and I also enjoy the challenge of re-purposing scraps and using recycled materials.  My cast jewelry contains 40-50% of recycled sterling and the displays are often made of sustainable materials, leftover products from other projects, or discontinued store samples.  I especially enjoy the fluidity and variety of techniques allowed by the wax to create unique designs which are not typical of metal, and making each piece as individual as the person wearing it."
Interested in how it is all made?  Click here for my YouTube channel and watch me demonstrate various stages of the different processes!
If you are interested in a custom designed piece, here is a link to my Design Services.
Best,
Lisa Parker